The Gypsies Are In a Tight Spot: Helpless People of Middle-east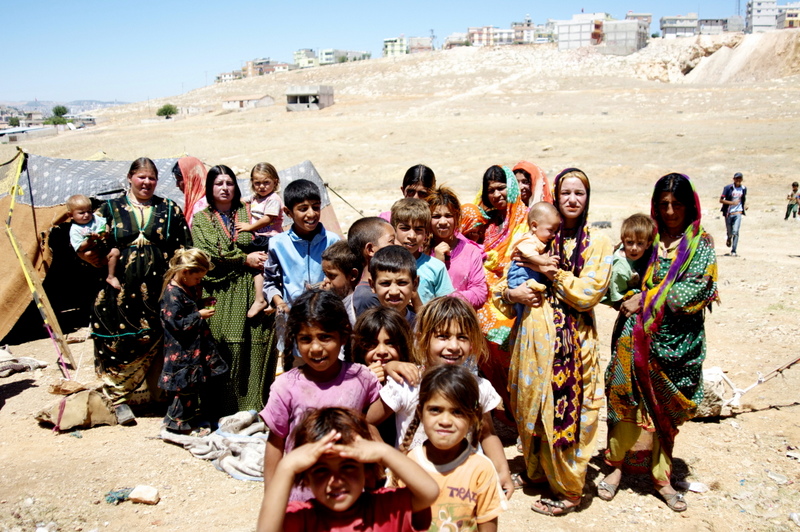 The Gypsies living almostly in all countries of the world are having difficult days due to civil wars and conflicts happened in recent years. This ancient nation has conveyed that "hard times" to future generations with the magic of promise by carrying massacre and pains which they have lived in war and civil wars of the World in their social memories for hundred years. What Gypsies have lived in wars and civil wars especially for one hundred years have always been ignored. They have been lack of written materials to make their voices be heard. For a long time, they have carried mass deaths they lived in auschwitzs to young generations with elegies. Then in 90s years, "Middle and East Europe" turned into a welter of blood with the breaking up of east block. In the civil war lived those days, thousands of them were slaughtered by racist fanatics and one hundred thousands of them were enforced to leave their homes and countries. Today, they have been brushing up against discrimination, abuse and threat in many countries of the World.
Nowadays, Gypsies, helpless people of Middleast, are in desperate straits.
Before the occupation of America to Iraq, there was a famous Gypsy district close to Ebu Ghraib district which was well known with its torture shelters. What happened to Gyspy origin "Ghagar" community is a significant example of what those Gypsies have lived wars and civil wars. In Saddam Period, almostly with their fifty thousand population they endeavoured to live by music and dancing in wedding ceremonies and entertainments with their language.
With the corruption of American oppucation and regime, homes and work places of regime supporters, ethnic and religional minorities and holy places were destroyed. Ghadars had also their shares of this destruction. Their districts were completely destroyed and their homes were burned. Either women and kids were exposed to this violence and they were enforced to migrate their homes. Any kind of violence was used to women including sexual violonce. In this chaotic order after occupation, Gypsies were exposed to many barbarian attackes by radical groups like Shia militants and Al Qaeda. Thousands of women, children and men were lost their lives after these attacks. Iraq management kept quiet about these attacks. These attacks were so brutal that a lot of Gypsies were slaughtered according to a Arabic method based on killing the people by using sword on their necks meaning savagely death and hate and victim is lower and no worth. Today, one person or more in each Gypsy family have been definitely slaughtered by this fanatic groups. As a result of Iraq's government's turning a blind eye to these massacres, thousand of Gypsy families had to leave their villages and cities and took shelter in crowds of big cities. They were enforced to have interested in illegal works like mendicancy, robbery, prostitution. The large part of them had to nomadize again due to the discrimination implemented to these communities in areas they went. Most of them were relegated to out of country. Ablers of new regime have said that "There is no place for alcohol sellers and whores in a Islamic country." The leaders of radical shiah groups today are oftenly warning Gypsies to behave ethical and carry out Islamic traditions. They are making people provoke against Gypsies by telling them their girls are walking around naked, dancing and buying and using alcohol and drug. According to "Institute for International Law and Human Rights" report and in articles of Iqbal Tamimi who is "Arab Women Media Watch Centre" director and journalist, it is implied that Gyspies' life conditions are getting worse and ones of them who left the places they have lived and started to nomadize are helpless and under threat. It is also reported that women are under the threat of sexual attack.
Although there is two and half million Gypsies in Egypt, there is no official birth records and ID numbers of majortiy of them. There are Dom (Gypsy) groups populated almosty hundred thousand in many cities like Cairo and Alexandria and Doms who are socially isolated have been enforced to live in poor areas of Egypt. They have been enforced to live in Nil valley around dirty raceways in very bad homes and they are mostly working in daily works such as metal working, fortune telling and dancing.
After the corruption of Mubarek in 2011, many Gypsies in Nil shore have pit their hopes on revolution but in a short time it has become clear that "better the devil you know than the devil you don't". Islamists gaining strength do not see ethnic and religional minorities as equal as them. The latest developments lived made these people' uncertainties increase about their future. There has news about attacks to Dom groups especially in Sinai and Alexandria.
As a result of the war which started in March of 2011 in Syria and became in its third year, millions of people from many ethnic groups had to leave their homes. Some of them have migrated comparatively safety cities in which there is less conflict and millions of Syrian people have left their country and had to take shelter in neighboring countries. There has been nearly above five hundred thousand settled and semi-nomadic Gypsies living in Syria who have gone everywhere of Syria and have been called as Dom, Dummi, Nawar, Gurbet and Zott. According to the information of Gypsies sheltered from Syria to Turkey, Gypsies have been exposed to violence between both regime and opponents as they have stayed neutral to these two groups' conflicts. They also have been enforced to migrate and their homes and properties have been destroyed and plundered. As a consequence of air attacks made to Aleppo, there has been so many people died in districts such as Al Hamidiyah and Esrefiye in which there has been so many Gypsies living and these districts are completely evacuated today. The huge numbers of families coming by having migrated have been trying to live in cities' lines close to the border in their tents. The oldest one of them has said: "Whenever war comes out, it aches us. Nobody wants us, Doms. People see us as their enemies in Iraq, Lebanon and Syria now. They say "You are reprobate, thief and you are playing drums and drinking alcohol" but actually they are the real thieves as they have stolen everything of us. Assad has dropped bomb to our homes. Wife and children, everyone is hungry. We need water of Firat river." Specially in recently, strengthening groups associated with Al Qaeda, have started to use violence Gyspsies also in the places under their control. They are disseizing and using violence until Gypsies die due to the fact that they are not "enoughly Muslim." As days pass, these groups which have been implementing conflicts in terms of denominational and religional motives are increasing the use of violonce to communities having different beliefs. Gypsy communities especially having Alewi Bektashi belief are enforced to live as immigrants by sheltering to regions under control of regime or peripheral countries by leaving their homes in cities such as in Aleppo, Hama, Homs due to pressures of radical Islamists. Ali and his family one of those sheltered to Turkey and they are living in a tent and oftenly they are changing their place. Ali says they are Alewi and adds this: "We have no chance to live there today. In the past nobody was interested who was Alewi or Sunni, but now blood has appeared. Everyone disseizes of each other. They have not liked us as we are refugees. Now we are also escaping as we are Alewi. Ali also has said that Jihadist has amputated one boy's hand with the reason of burglary and lastly they have rapidly started to migrate to peripheral countries because of battle royals and health and nutritional deficiency. Ali has kept on his speech by telling that hundreds of Gypsies have sheltered to the countries such as Turkey, Lebanon, Jordan and Iraq each day. Finally he says that "we are already homeless birds, now again we have taken to the roads."
Though there is not exact number about Gypsies sheltered from Syria to Turkey, it is determined in conventions that there is ten thousands Gyspies of Syrian refugees.
We are talking with 84 year-old Fatma grandma about Gypsies in Syria and Middleeast. They are fifty persons with grandma's children, grandchilds and relatives in total. Fatma grandma has experienced his nearly centuries-old life as nomadic in different countries of Middleeast. "We were in Aleppo in winters and other seasons we were migrant settlers in Turkey, Syria, Iraq and Lebanon. We have relatives in everywhere but we have also borders and gendarmeries. In the past we even went each other's weddings." Her small brother is already living in Urfa. "As we were young, we oftenly used to come here in wheat period. There were no mine and wire those days. Then when it was enclosed with wire, some of us stayed here, others stayed different places. We started less oftenly to come but intermarried. Our grands always used to come and go." I asked "what about war?" "War has always been there ever since I could remember. Yes, war has been and so our tribe has been driven away any other places. We are poor people. We are living as halfly hungry and halfly full. Due to the war in Lebanon, some of our relatives have went far away, some of them reached even Jerusalem and some of them have been lost. I had a sister in Iraq. She escaped from Saddam's war. They killed her children and she came to Aleppo. They bombed our homes in the belief that there were terorists. I do not know where she is now but her kids are in Urfa." She told these last words with a trembling voice from sadness.
Mehmet, the son of Fatma grandma says: "We are trying not to stay hungry. We were collecting and selling scraps in Aleppo. When the war broke out, opponents came to our districts and they got our homes and seized the cars. They said us to get away from here and they humilitaed us . They told we were irreligious. After that, conflicts started and my brother lost his leg." And then he is showing his 20 year old brother lying with his chopped leg from above of knee in the tent.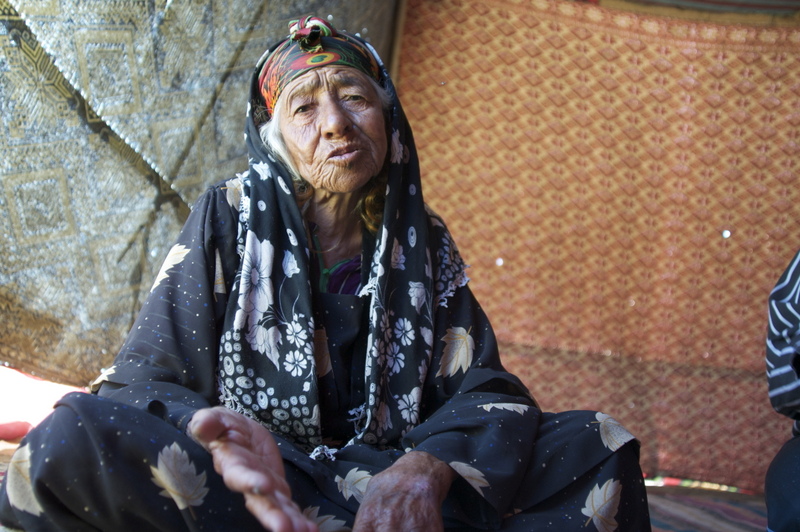 There are so many family living in Antep trying to resist the destroying effect of time by sheltering in wrecks of Armenian homes of this ancient city. There is family of twelve persons living in a home out of door and window. They took sheltered from Esrefiye district of Aleppo to these places. They are endeavouring to live in a place of these ruins and trash piles collected by children, which is situated in narrow street across the old church. Except young women and babies, almostly everyone is collecting garbages in order to sell them. If they can not sell them, left is lighted in stove. Glasses and doors of old stone houses are closed with nylons and water is taken from the close mosque. A baby less than fourty days old is wrapped with rags and trying to hold on for dear life in the mother's bosom in a home there is no stove. Father tells: "I am working as tailor but there is no work, so I collect paper, rubber in garbages of streets. If there was a job, I would rent a small house and buy milk and food for my baby."
A Dom who is called as Muharrem has spoken to Al Jazeera says that he is coming from Haydariyah district of Aleppo to Istanbul. After he has told they has had to leave their properties and escape after the war, he has added this: "The situation is so critical there. Both opponents and state hit us. The poor people are mosty affected from this situation. As we are just staying in our homes, a bomb is exploding over our heads."
As a result of civil war lived in Syria, Dom groups have taken shelter in countries like Lebanon, Jordan and Iraq. Catherine Mourtada who spoke from Voice of America to Cecily Hilleary in 2013 indicated that there had been so many Dom groups escaped from Damascus to Beirut and the ones lived Lebanon had been so poor. Moreover, she added that they had to help their relatives comed from Syria was the reason why the life became harder for them. Miss Catherine has also written in our correspondences that "Syrian Doms have paid big price for wars and Doms living in peripheral countries have also had the responsibility of the war as a result of the fact that Syrian Doms had to come and shelter these relatives' homes who have been living in very bad conditions."
Consequently, Gypsies have always become the victims of "civil wars" beetween nations, ethnical and religional groups whom they have lived together with for centuries. Today, what do new managements and political structures reshaped as a result of civil insurrections in Middleeast think about the future of religional and ethnical minorities including Gypsies? This question is not answered yet. Unless it is guaranteed that these people will live in "peace and equality" with their own right of humanitarian life in this new system, multi cultural structure of Middleeast will be fastly deformed.
Helpless people of Middle East: Gypsies are in tight spot - By Kemal Vural Tarlan |Cairo Post
http://thecairopost.com/news/97107/op/helpless-people-of-middle-east-gypsies-are-in-tight-spot
A young graduate peddler initiated the civil commotion known as "Arab Spring" in Tunisia on the 17th of December, 2010. This uprising took place on Arab street which then spread throughout the Middle East. As a result of this uprising, several dictatorial regimes in the Middle East, which have been in power almost half a century, have been losing power one by one. When the uprising reached Syria in March 2011, it was assumed that the Baas regime would lose power shortly thereafter. The expectation was that there would be a regime change in Syria. On the contrary the Syrian regime is still standing due to religion the ethnic diversity of Syria, geographical location political links among diverse groups under the Bass regime and international stability.
The war is now in its 3th year; and has caused over 70 thousand deaths throughout Syria. Millions from various ethnic groups have had to flee their homes and hometowns. Over a million Syrians have left their country to flee to neighboring countries some of them were force to immigrate to comparatively safer cities outside of Syria. Today, they are trying to survive in camps and rental flats in these neighboring countries. For over a year, I have been conducting a photographic documentary with regard to Syrians who are acknowledged as "guest" in cities near Syria`s borders and as refugees or asylum seekers by international law. I have been photographing these individuals as they are working on farms or as they are sweating through daily factory work fleeing minefields in fear, staying in their tents or flats in tears. Most recently, I have been trying to photograph every moment in their lives in order to be a witness to history.
The reality of the Syrian people is as similar as in this region itself, together among different ethnicities, beliefs and cultures, leading us to understand a common sequence of
Throughout these people and communities, there is an ancient group who have been living not only in Middle East but also throughout the world. There are hundreds of thousands of gypsies, known as Dom, Dummi, Nawwar, Kurbet and Zott, who are able to speak several of local languages in addition to Kurdish, Domari, Turkish and Arabic. These gypsy groups live throughout Syria as nomads or have established themselves, settling and integrating among Syrian locals.. In the beginning of this century, gypsies were divided by artificial borders of other nations. Even though they are living in different countries, they have been being in communication between their relatives. There have also been marriages between relatives. After the outbreak of the most recent civil war, they were exposed to discrimination by other people and have tried to flee to cities where other relatives are living. There is a simple reality for these people even if they live in different countries; they share the same destiny. These people, who have a very low quality of life, are humiliated, scorned, discriminated against and ostracized out of work by groups more dominant than the gypsy groups.
Gypsies who have lived in Syria over the last 2 years have found themselves in a war where they have no side. In an empty area, in a station near Gaziantep. I came across a group of people who try to live in cloth and plastic tents. This camp consists of mostly women and children. The men have moved to districts closer to the city in hopes of finding jobs. Children run around inside the tents, with a piece of dry bread in their hand and nothing other than few blankets inside the tents. They came from Aleppo. "Opponents entered our hometown. Syrian Army came to tell us war planes are going to come and bomb our homes and that we must leave. So we abandoned our houses and property and left. News has since arrived that it is now bombed. We no longer have houses." said young women, who had tattoos on her hands and face. Then I asked the question "Which side were you supporting?" -She answered" For us there is no difference between sides. Our houses are bombed; we were miserable all the time, and now we're all in need of food.
A man named Hasan and I have had a conversation about Dom people in Syria. Hasan is 17 years old, married and has 2 children. He placed his tent in a district in Nizip where DOM people live. He pitched his tent with help from people who live in the district. In their tent there are 9 people in total, including his father-in-law, sisters and brothers. Hasan can speak fluent Domari, Kurdish and Arabic. He admits that he is a Domari. Gypsies who came from Syria cannot speak Turkish. They introduce themselves as Kurdish and those who speak Turkish are primarily Kurdish and gypsies from Turkmenistan. He points his finger to another tent and says: " don't believe them they say they are Kurdish but they my relatives and used to live on the road behind my house in Aleppo." We continued to talk about his relatives in and around Syria.
I have gained these information from Hasan and other people that i have spoken to; Latakia is the place gypsies fight hardly as well as air attacks happens hardly. They say that people had to immigrate to cities that in west Syria for example like Sham or cities that controlled by Kurdish community/ society like Afrin, Kobani or Qamishli. Those, who are indeed craftsmen such as dentist, blacksmith, circumciser, sieve-maker, musician and tinsmith, can`t carry out their crafts due to industrialization, modernization in production and laws. Hasan was a construction worker in Syria; if they needed him to work in Turkey, that is where he went for work. "Turkish employers work for 80 lira; however, we work for 40 lira even though there isn't much work for us. We usually only work once a week. Soon, my family will move to Mersin where children and adults alike will harvest strawberries. It looks like this war will never end; and when it does, I will go to Aleppo."
A crowded group of asylum seekers under an almond tree which just came into bloom on the edge of a wasteland get irritated when they see me behind the Imam Keskin district of Urfa. They don't speak more than a few words even if they were sure that I'm not a public servant. The old ladies curse people who they feel caused "their current situation" as they leaned their backs against an almond tree, among the almond flowers. While I was leaving there, one of them was yelling at me "don't let them know where we are by taking pictures." Two days ago, Syrian Gypsies` tents were burned to ruins in the Yenice district nearby by police who acted upon complaints from residents around that district. There were no references to gypsies in the news, only mentioning that the "Syrians` tents were burned" in national press. The asylum seekers had been trying to run away from police for the last two days here. They were forbidden from staying in the tents in these districts by local authorities due to prejudice, complaints and visual pollution.
In recent days, the gypsies sought asylums from Syria fleeing to our country mostly try to live in crude flats, sheds, and around poor districts. Their relatives, who live here, set up tents near their house walls even if they don't have any bread to share. They go together to collect papers, dilapidated goods and a piece of bread from streets. But many of them still live in crude tent which are set up near cities, towns or villages along with border from Mardin to Antakya.
They were accused of stealing and immorality, discriminated against by Arabs, Kurds, and Turkish residents in camps even if they managed to hide themselves in those camps due to their ability to speak Arabic, Turkish and Kurdish somehow after entering the camps successfully. On the other hand, they were discriminated agians and exposed the same prejudiced acts of the camps` management until they no longer have the desire to stay in those camps.
Most of them have been staying away from camps and have returned to a nomadic life style again in order to be not humiliated by "gadjos" and not being imprisoned in wire netting. They have been preparing to go to work as joppers in Mediterranean and Mid Anatolian region as a cheap labor force the as temperatures increases. It is said that they are working in those areas for 5 TL per person per workday.
In conclusion, the Gypsies were the victims of the "civil war" which started among those who have been living together among various religious and ethnic groups. Gypsies in the Balkans suffered significantly during the disintegration of Communist Bloc countries. Thousands of gypsies were forced to immigrate from where they had lived by armed radical Shiites in Iraq due to "their insufficient Islamic believes". At that time, most of them had to take refuge in Syria. During the uprising in Middle East which has now entered its third year, the gypsies find themselves in the middle of conflicts as history repeats itself. News coming out of the press claims that the living conditions among gypsies is becoming more troublesome.
The new authorities in these countries have taken on a new strategy as a result of these uprisings; regarding religious and ethnic minorities, including gypsies, and have not taken any physical steps, only evasive promises. As long as these subjects are neglected by politicians, and the equality of religious and ethnic minorities, in addition to overall peace and equality, are overlooked, the multicultural structure of the Middle East will continue to deteriorate.
Kemal Vural Tarlan – Documentary Photographer